A Lead Magnet is a nearly irresistible offer made in exchange for a customer's email address and/or other valuable marketing information, like names and phone numbers. Only the most strategic digital marketers, and mafia bosses, know how to make an offer this good.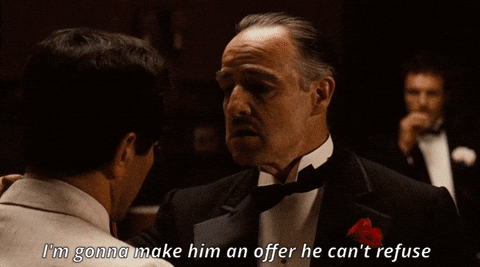 But really, using Lead Magnets is one of the best ways to build a strong customer base.
What Makes a Good Lead Magnet?
Specificity: According to our founder and CEO, Ryan Deiss, the most important element of a successful Lead Magnet is specificity. For a Lead Magnet to perform well, it needs to solve a specific problem by offering a specific solution for a specific segment of your market.
Instant Gratification: A high-converting Lead Magnet must also be instantly valuable to the consumer. Audiences want a solution to their problems immediately, so the quicker you can give it to them—the better.
Unique Value: Of course, your business won't be the only one using Lead Magnets to get customer information, so it's important that you offer something unique. A customer should be convinced that you are the right business to buy from over your competitors.
High Perceived Value/High Actual Value: It's important to invest in the quality of your Lead Magnets. As Ryan says, just because something is free doesn't mean it should look free. Your lead magnet needs to be high-quality information that your customer is dying to know. Sure, you might reel in a few prospects with flashy marketing, but if your offer lacks substance, you're likely to lose audience attention very quickly.
Examples of Lead Magnets
When it comes to creating the perfect Lead Magnet, there are a variety of types to choose from. These are just a few we recommend:
Checklist:
Checklists are one of the highest performing Lead Magnets out there. They tend to convert well because they are so easily consumed, according to Optinmonster. Checklists are also very easy to create. For example, you can compile your most popular blog content into a checklist that's only available by email upgrade.
Webinar:
Webinars offer a unique and high perceived value Lead Magnet. Not to mention, audio/visual assets typically attract more consumer interest. Access to a live webinar is even more successful because it creates a sense of urgency for your audience, playing on the common "fear of missing out" dilemma.
Template:
Templates can provide users with an outline or starting point for a variety of different practices. Say, for instance, a business email. The Magic Email Template is just one example of a successful template Lead Magnet. While easily customizable to fit specific needs, the Magic Email Template offers small business owners a place to start when communicating with clients and influencers.
Case Study:
Case studies are another common Lead Magnet and are especially useful when you're targeting business owners and marketers. According to the Content Marketing Institute, 63% of marketers agree that case studies are a valuable marketing strategy. Case studies offer real-life examples of customers using your product and can be used to persuade potential new prospects to trust your brand.
Discount:
Discounts are a Lead Magnet you probably encounter most frequently as a consumer. Typically associated with a product or e-commerce site, this type of Lead Magnet is an extremely effective way to obtain email addresses in exchange for lower prices or free shipping.
Software:
If used in the right market, downloadable software or free trials can be a great Lead Magnet with high perceived value. For example, popular storage tool, Dropbox offers a free trial/demo of their business product to users who provide their email.
Quiz/Survey:
Online quizzes and surveys are easily one of the most engaging ways to build a new customer base. Users are allowed to take the quiz/survey at no cost and then are prompted to enter an email address to view results.
Samples:
Samples are a popular Lead Magnet often used in the beauty industry. You've likely seen advertisements to try a new vegan skin cream or all-natural shampoo and have been prompted to enter your email for a free trial. That is a Lead Magnet at work. Samples are especially effective because audiences experience the immediate gratification of knowing a product is on its way to them.
Takeaways
Make it a win-win… Lead Magnets are a great way for businesses to acquire valuable marketing information from their audience by offering something of value in return.
Don't beat around the bush… Specificity is key when creating a successful Lead Magnet.
You have plenty of options… There are several types of Lead Magnets, though some tend to be more effective than others. It's important that you tailor your Lead Magnets to your target audience and offer them an exchange that has both high perceived value and high actual value.
Now with all that said, we'd like to offer you even more top-secret marketing tips. All you have to do is—you guessed it—sign up with your email.
See? Lead Magnets are that easy!
But really… if you want to go ahead and sign up, that'd be pretty cool too.
(NOTE: Need a helping hand with your digital marketing efforts? Or maybe you just want proven, actionable marketing tools, tactics, and templates to implement in your business? Check out the latest deal from DigitalMarketer, and you will be on your way to helping your business grow.)